Why alfalfa?
Alfalfa (Medicago sativa L.) is an important and broadly adapted forage crop that is planted for hay, pasture and silage in more than 80 countries on 30-35 million hectares. However, livestock and forage production are being shifted to more marginal, less fertile agricultural soils as the world population increases. Climate change is furthermore projected to further stress alfalfa production in areas where the crop is most important, such as the desert regions of Central Asia and northern Chile. As water becomes scarcer in these regions, the development of improved, drought-tolerant alfalfa varieties will be essential.
Collecting
350 seed samples of 20 wild Medicago species were collected in 10 countries: Armenia, Azerbaijan, Chile, Cyprus, Georgia, Italy, Lebanon, Nepal, Pakistan and Portugal.
Pre-breeding and evaluation
434 alfalfa crop wild relative (CWR) accessions and pre-breeding lines were evaluated in collaboration with the Australian Pastures Genebank. All evaluation and characterisation data are available at the APG website.
54 alfalfa pre-breeding lines that incorporate genes for drought tolerance from alfalfa crop wild relatives were developed and distributed for testing.
Pre-breeding lines were shared with stakeholders in Australia, China, Chile, India, Tunisia, the United States of America and the United Arab Emirates.
Adapted varieties of alfalfa incorporating traits from wild relatives and improved agronomy practices introduced to smallholder and subsistence farmers in Chile, China and Kazakhstan.
Promising pre-breeders lines have been conserved in the Australian Pastures Genebank and are available to users through SMTA.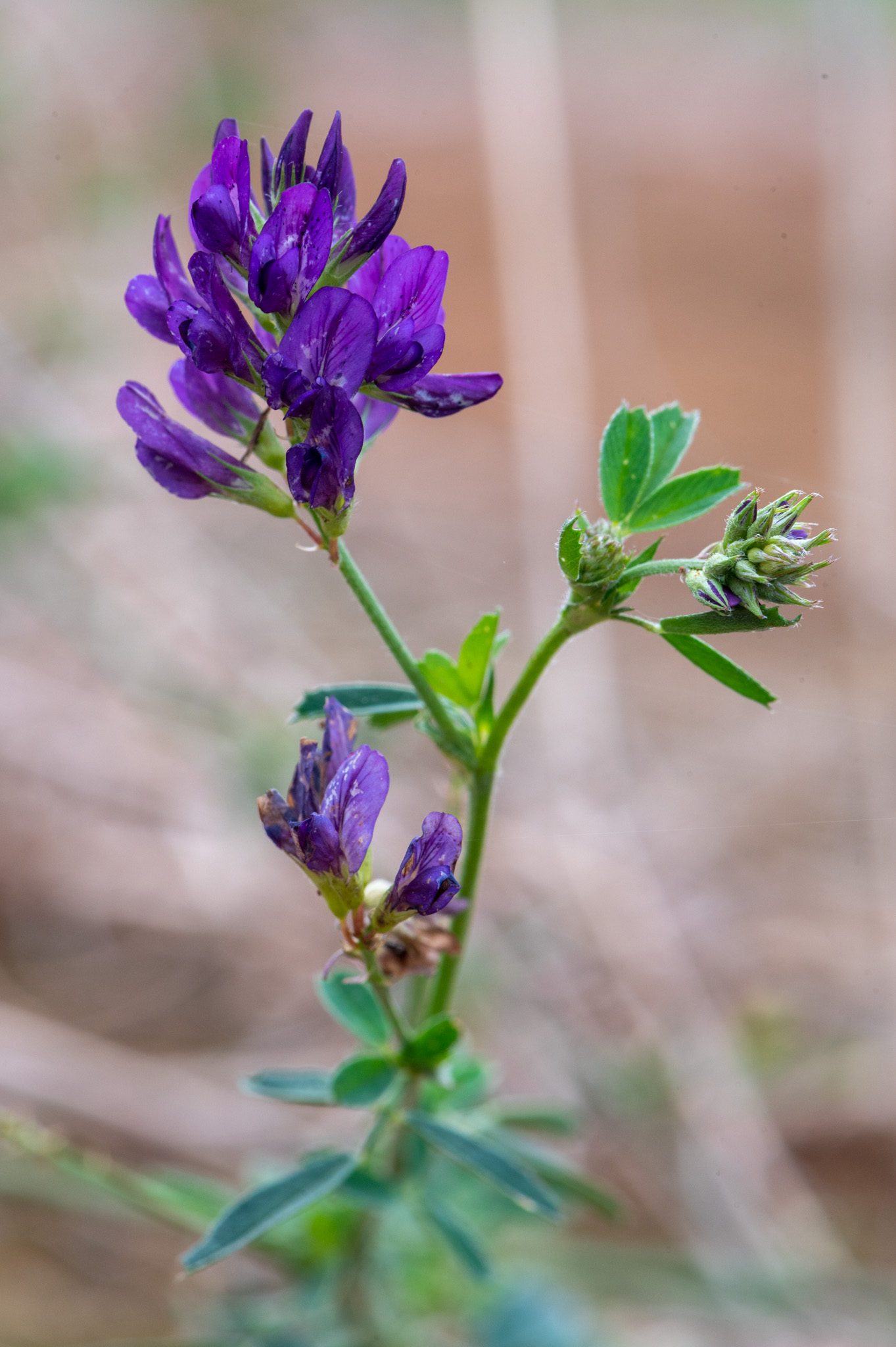 Collecting
Armenian Botanical Society, Yerevan, Armenia
Genetic Resources Institute, Azerbaijan National Academy of Sciences, Baku, Azerbaijan
Instituto de Investigaciones Agropecuarias, La Cruz, Chile
Agricultural Research Institute, Ministry of Agriculture, Natural Resources and Environment, Nicosia, Cyprus
Institute of Botany, Ilia State University, Tbilisi, Georgia
National Botanical Garden of Georgia, Tbilisi, Georgia
Department of Earth and Environmental Sciences, University of Pavia, Italy
Lebanese Agricultural Research Institute, Rayak, Lebanon
National Agriculture Genetic Resources Centre, Nepal Agricultural Research Council, Khumaltar, Nepal
Plant Genetic Resources Program, Bio-Resources Conservation Institute, Islamabad, Pakistan
Museu Nacional de História Natural e da Ciéncia, Lisbon, Portugal
Pre-breeding and evaluation
Lead Institute: South Australian Research & Development Institute, Adelaide, South Australia, Australia
Partners:
Instituto Nacional de Innovacion Agraria (INIA), La Cruz, Chile
Kazakhstan Scientific Research Institute for Agriculture and Plant Growing (KSRIAPG), Almaty, Kazakhstan
Grassland Research Institute of the Chinese Academy of Agricultural Sciences (GRI/ CAAS), Huhhot, P.R. China
The University of California, Davis, United States of America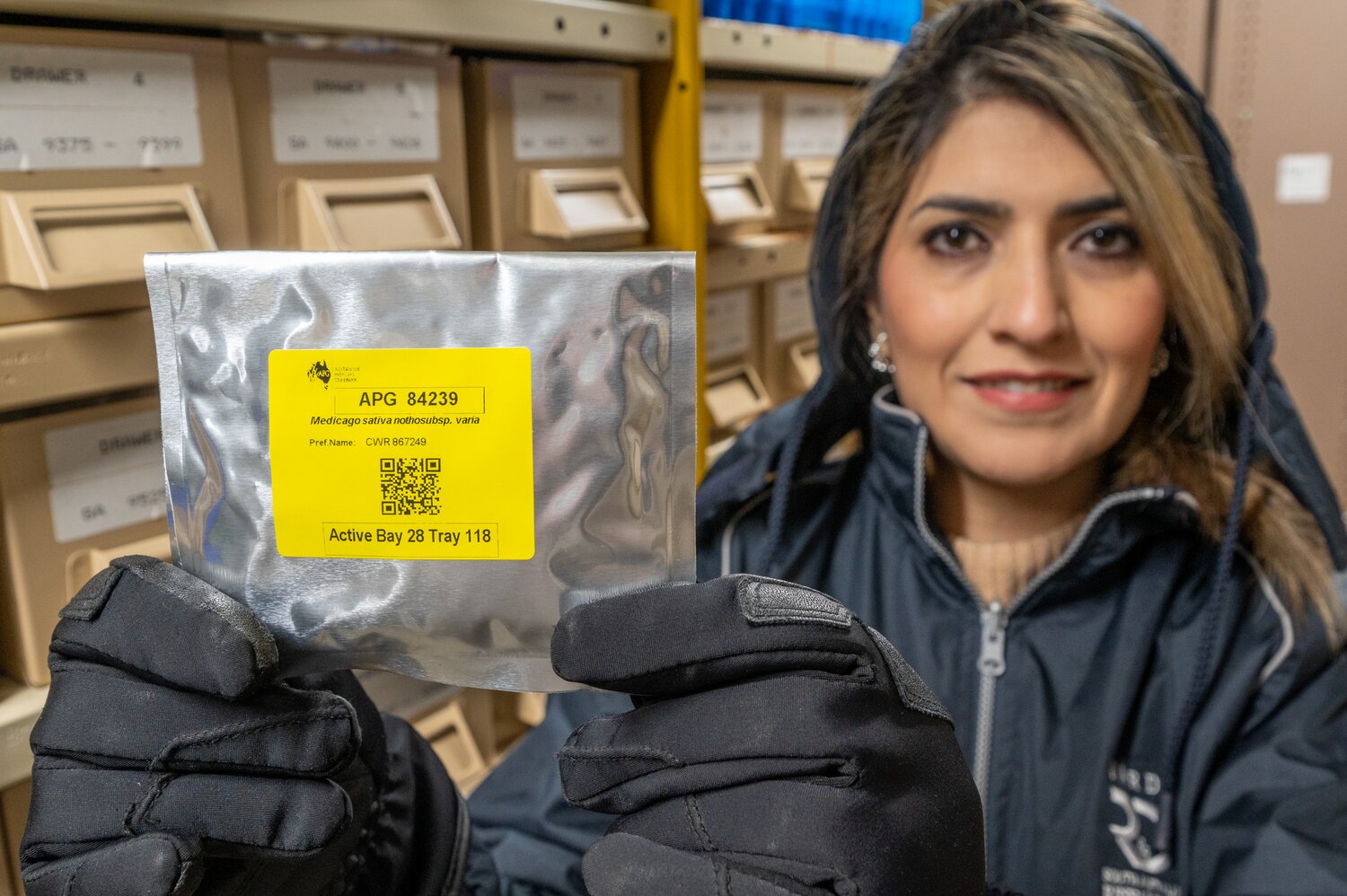 Alfalfa key collections, materials and data
Alfalfa collections
The largest collection of Medicago spp. is conserved at the Australian Pastures Genebank, which holds 29,145 accessions (seed lines) of alfalfa and its crop wild relatives. The Western Regional Plant Introduction Station, United States Department of Agriculture-Agricultural Research Service, Washington State University, USA, also holds a significant collection.
Of the 350 seed samples of wild Medicago species collected, 339 samples are conserved in the Millennium Seed Bank (December 2021) and 133 samples are safety duplicated at the Global Seed Vault, Svalbard (December 2021).
230 out of 260 accessions evaluated in the Crop Trust alfalfa project have been safety duplicated at the Global Seed Vault, Svalbard.
The Genesys PGR database also includes information about alfalfa accessions in genebanks worldwide and provides tools for filtering accession lists based on the climate of their collection origins.
Pre-breeding materials
Data
Relevant publications

Ovalle, C., Espinoza, S., Barahona, V., Gerding, M., Humphries, A., del Pozoet, A. 2015. Lucerne and other perennial legumes provide new options for rainfed livestock production in the Mediterranean-climate region of Chile. Ciencia Investigacion Agraria 42: 465−478.

Wang, Y., Yu, L., Li, J., Sun, J., Xie, J. 2016. Effects of chilling stress on the root characteristics of 5 alfalfa varieties. Acta Agrestia Sinica 1: 101−106.
Wang, Y., W., Li, J., Yu, L., Yuan, T., Yang, Z. 2017. The morphology indexes of different alfalfa cultivars in northwest of HeBei. Heilongjiang Animal Science and Veterinary Medicine 8: 175−176, 298−299.
Meiirman, G.T. 2017. On the use of wild species in recurrent selection for enhancing the adaptability of cultural varieties of alfalfa [in Russian]. Biotechnology, Genetics and Plant Breeding 29−30: 48−50.
del Pozo, A., Ovalle, C., Espinoza, S., Barahon, V., Gerding,. M., Humphries, A. 2017. Water relations and use-efficiency, plant survival and productivity of nine alfalfa (Medicago sativa L.) cultivars in dryland Mediterranean conditions. Journal of Agronomy 84: 16−22.
Espinoza, S., Barahona, V. 2017. Nueva alternativa para producción de forraje en períodos de escasez alfalfa en condiciones de secano mediterráneo. Ficha Técnica INIA Raihuen Praderas 3.
Galiolla, M., Serik, K., Sakysh, Y., Serik, A., Saltanat, T. 2017. Results of selection studies of alfalfa based on inbred lines. Agricultural Science and Technology A 7: 309−316.
Sun, J., Yu, L., Zhao, J., Liu, H., Zhang, Y. 2017. Effects of heterogeneous root zone salinity on plant growth and ion characteristic in alfalfa. Scientia Agricultura Sinica 50(22): 4299–4306.
Humphries, A., Ovalle, C., del Pozo, A., Inostroza, L., Barahona, V., Ivelic-Saez, J., Yu, L., Yerzhanova, S., Meiirman, G. Abayev, S., Brummer, E., Hughes, S., Bingham, E., Kilian, B. 2018. Introgression of alfalfa crop wild relatives for climate change adaptation. In: Basigalup, D., del Carmen Spada, M., Odorizzi, A., Arolfo, V. (eds). Proceedings. Second World Alfalfa Congress, Cordoba, Argentina. 11–14 November, 2018. Buenos Aires, Argentina: Instituto Nacional de Tecnología Agropecuaria (INTA). pp. 72–76.
Ji, R., Yu, L., Bai, S. 2018. Effects of colchicine on chromosome doubling of Medicago sativa L. cv. Jinda. Journal of Northwest A & F University – Natural Science Edition 46(1):103–110.
Wang Y.T., Yu L.Q., Yang Z.M., Wang C.J. Yan L.L., Ge J., Dong X.F. 2018. Germination characteristics of 10 alfalfa varieties under Na2CO3 stress. Pratacultural Science 35(6): 1443–1450.
Sun, JuanJuan, A, LaMuSi, Zhao, JinMei, Xue, YanLin, Yu, LinQing, Yu, Zhu, Zhang, YingJun. 2019. Analysis of amino acid composition and six native alfalfa cultivars. Scientia Agricultura Sinica 52(13): 2359–2367.
Inostroza, L., Espinoza, S., Barahona, V., Gerding, M., Humphries, A., del Pozo, A., Ovalle, C. 2020. Phenotypic diversity and productivity of Medicago sativa subspecies from drought-prone environments in Mediterranean type climates. Plants 10(5): 862. https://doi.org/10.3390/plants10050862
Toktarbekova, S.T. kyzy, Meiirman, G.T., Yerzhanova, S.T., Abayev, S.S., Umbetov, A.K. 2020. Productivity of the green mass of new alfalfa cultivars depending on the effect of macro- and microfertilizers on various phosphorous backgrounds. Journal of Ecological Engineering, 21(2): 57–62.
Inostroza, L., Ovalle, C., Del Pozo, A., Espinoza, S., Viviana, B., Gerding, M., Humphries, A. 2019. High-throughput phenotyping based on canopy reflectance and RGB-images for selecting drought tolerant alfalfa in rainfed Mediterranean environments. In: Huguenin-Elie, O., Studer, B., Kölliker, R., Reheul, D., Probo, M., Barre, P., Feuerstein, U., Roldán-Ruiz, I., Mariotte, P., Hopkins, A. (eds). Improving sown grasslands through breeding and management. Gatersleben, Germany: European Association for Research on Plant Breeding. pp 327–329.
Humphries, A.W., Ovalle, C., Hughes, S., del Pozo, A., Inostroza, L., Barahona, V., Yu, L., Yerzhanova, S., Rowe, T., Hill, J., Meiirman, G., Abayev, S., Brummer, E.C., Peck, D.M., Toktarbekova, S., Kalibayev, B., Espinoza, S., Ivelic-Saez, J., Bingham, E., Small, E., Kilian, B. 2021. Characterization and pre-breeding of diverse alfalfa wild relatives originating from drought-stressed environments. Crop Science 61: :69–88.
Innes, L.A., Denton, M.D., Dundas, I.S., Peck, D.M., Humphries, A.W. 2021. The effect of ploidy number on vigor, productivity, and potential adaptation to climate change in annual Medicago species. Crop Science: 61: 89–103.