Why chickpea?
Chickpea (Cicer arietinum L.) is one of the most important food legumes in terms of production and harvested area. Almost 90% of global production comes from six countries: India, Australia, Myanmar, Turkey, Pakistan and Ethiopia. India is the global leader in both production and consumption of chickpea.
Chickpea has one of the best nutritional profiles of all the grain legumes, with none of the anti-nutritional or toxic factors often present in other legumes. Chickpea seeds contain an average of 23% protein and the crop meets up to 80% of its nitrogen requirements from symbiotic nitrogen fixation.
Collecting
16 seed samples of three chickpea crop wild relatives were collected from two countries: Lebanon and Pakistan.
In Pakistan, Cicer macracanthum Popov. was found at an altitude 500 m higher than previously recorded.
A UC Davis-led project collected 272 unique genotypes of C. reticulatum and C. echinospermum in Southeastern Turkey. Genomic data indicate that the material represents 12 genetic populations and expands the diversity available for breeding by ~40-fold. These materials are conserved in the Australian Grains Genebank and genebanks of the Aegean Agricultural Research Institute, Turkey, the United States Department of Agriculture (USDA) National Plant Germplasm System and the International Center for Agricultural Research in the Dry Areas (ICARDA).
Pre-breeding and evaluation
Pre-breeding populations were developed by crossing approximately 26 representative wild relatives with distinct cultivated recipient genotypes, creating a genetic bridge between cultivated and wild species and increasing available diversity for breeding by about two orders of magnitude.
9,673 F4 progenies derived from C. reticulatum and C. echinospermum have been conserved in the Australian Grains Genebank.
Genotypic data on some 2,500 of these accessions, combined with phenotypic data for yield and agronomic traits, contributed to identification of loci that underlie domestication traits, as well as loci that control novel traits contributed by wild accessions.
Full genome sequences for each species were generated, including an improved reference genome for the cultivated species.
Germplasm information is publicly available at GERMINATE Chickpea.
Physiological and transcriptional responses of wild relatives to soil and atmospheric drought were characterized, revealing enhanced drought tolerance in wild relatives.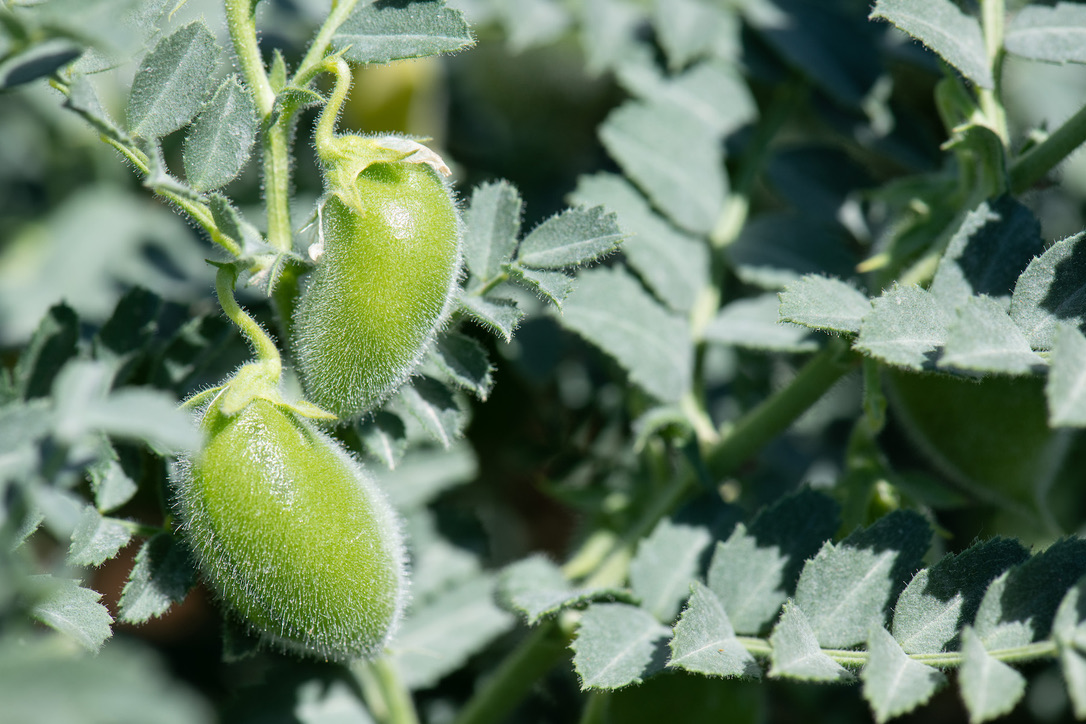 Collecting
Lebanon Agricultural Research Institute, Rayak, Lebanon
Plant Genetic Resources Program, Bio-Resources Conservation Institute, Islamabad, Pakistan
Pre-breeding and evaluation
Lead Institute: University of California, Davis, California, USA
Partners:
Dicle University, Diyarbakir, Turkey
Harran University, Şanlıurfa, Turkey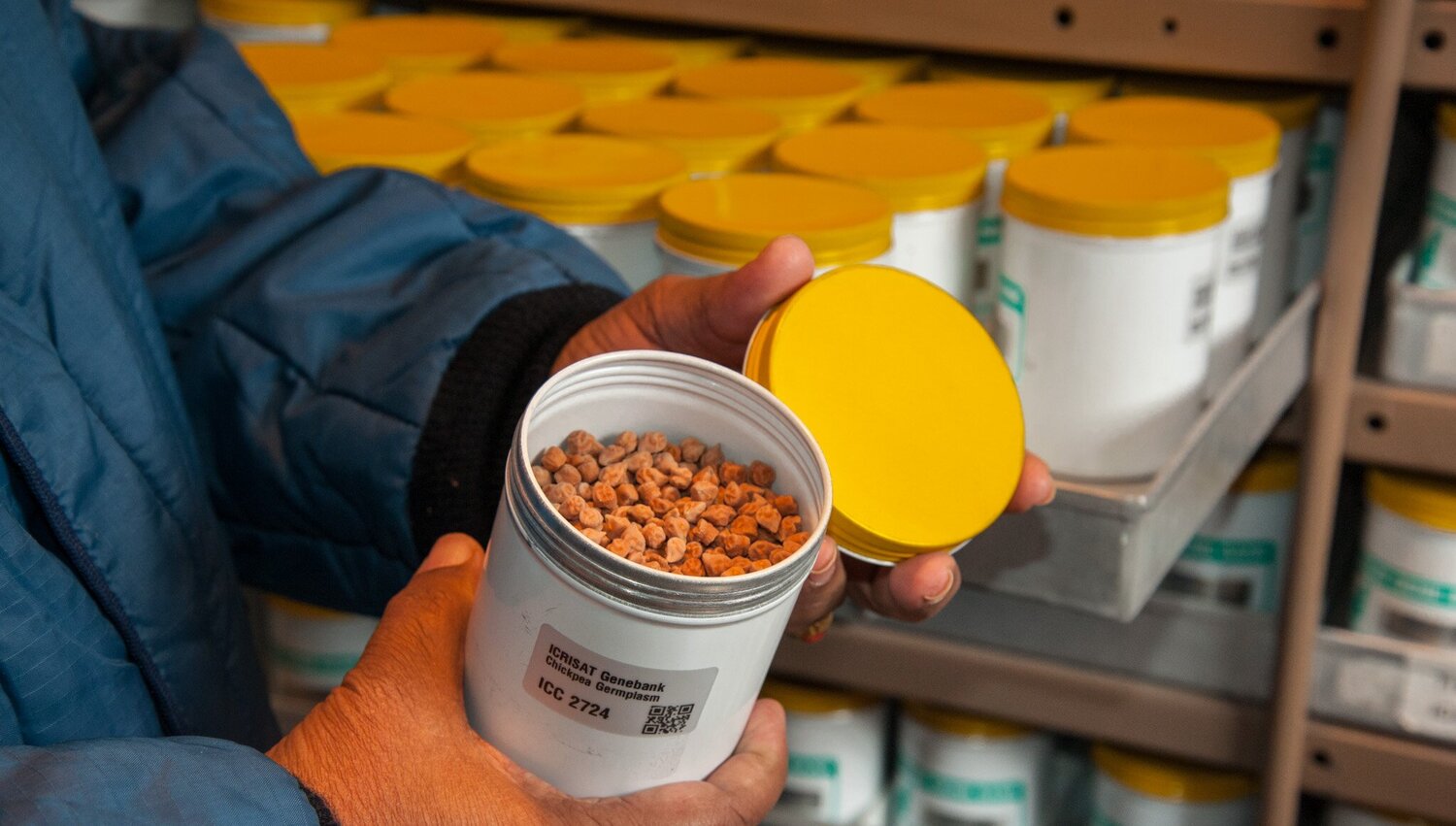 Chickpea key collections, materials and data
Chickpea collections
The largest chickpea collection is conserved at the International Crops Research Institute for the Semi-Arid Tropics, Patancheru, Andhra Pradesh, India.
Of the 16 samples collected, 11 samples of three Cicer species from two countries are conserved in the Millenium Seed Bank
The Genesys PGR database also includes information about chickpea accessions in genebanks worldwide
Pre-breeding materials
All pre-breeding materials and promising introgressed lines are conserved in the Australian Grains Genebank and genebanks of the Aegean Agricultural Research Institute, Turkey, the USDA National Plant Germplasm System and ICARDA.
Data
Relevant publications

Berger, J., Abbo, S., Turner, N.C. 2013. Ecogeography of annual wild Cicer species: The poor state of the world collection. Crop Science 43: 1076–1090.
Von Wettberg, E., Chang, P., Başdemir, F., et al. 2018. Ecology and community genomics of an important crop wild relative as a prelude to agricultural innovation. Nature Communications 9: 649. https://doi.org/10.1038/s41467-018-02867-z.
Coyne, C.J., Kumar, S., von Wettberg, E.J.B., Marques, E., Berger, J.D., Redden, R.J., Ellis, T.H.N., Brus, J., Zablatzká, L., Smýkal, P. 2020. Potential and limits of exploitation of crop wild relatives for pea, lentil, and chickpea improvement. Legume Science, 2(2): e36. https://doi.org/10.1002/leg3.36.
Moenga, S.M., Gai, Y., Carrasquilla-Garcia, N., Perilla-Henao, L.M., Cook, D.R. 2020. Gene co-expression analysis reveals transcriptome divergence between wild and cultivated chickpea under drought stress. The Plant Journal 104(5): 1195–1214.
Sharma, S., Lavale, S.A., Nimje, C., Singh, S. 2021. Characterization and identification of annual wild Cicer species for seed protein and mineral concentrations for chickpea improvement. Crop Science 61: 305–319.