Why grasspea?
Grasspea (Lathyrus sativus L.) is a hardy crop, able to withstand extreme environmental conditions such as drought, floods and poor soils. For this reason, it is sometimes considered a famine food, eaten when other crops have failed, and a climate-change-resilient crop. It is grown in pockets in South Asia, southern Europe and the Horn of Africa.
A major problem with grasspea is that its seeds contain a neurotoxin, β-N-oxalyl-L-α,β-diaminopropionic acid (β-ODAP), that can lead to paralysis in adults when consumed as a major part of an unbalanced diets over long periods. Low-neurotoxin varieties developed by exploiting the genetic diversity of the crop offer the scope to make grasspea a safe food constituent. Its productivity can be seriously affected by the noxious weed broomrape (Orobanche sp.) and by aphids.
Collecting
306 seed samples of 28 species of grasspea wild relatives were collected from nine countries: Armenia, Azerbaijan, Cyprus, Georgia, Italy, Lebanon, Nepal, Portugal and Spain.
Pre-breeding and evaluation
Four wild relatives of grasspea—Lathyrus cicera, L. heirosolymitanus, L. marmoratus and L. inconspicuous—were crossed with cultivated lines of grasspea in pre-breeding efforts.
420 accessions belonging to 12 Lathyrus species were evaluated for β-ODAP content and for resistance to broomrape. This identified grasspea wild relatives that had low levels of β-ODAP and wild relatives with resistance to two forms of broomrape—a major constraint to cultivation of grasspea in the Mediterranean region. These were subsequently crossed with cultivated lines in pre-breeding projects.
Speed breeding, a technique developed by NASA, was used to accelerate development of new grasspea varieties.
All seed samples of grasspea wild relatives and materials generated by the pre-breeding program are available from the International Center for Agricultural Research in the Dry Areas (ICARDA) through SMTA.
251 pre-breeding lines advanced through speed breeding and multiplied for on-farm testing.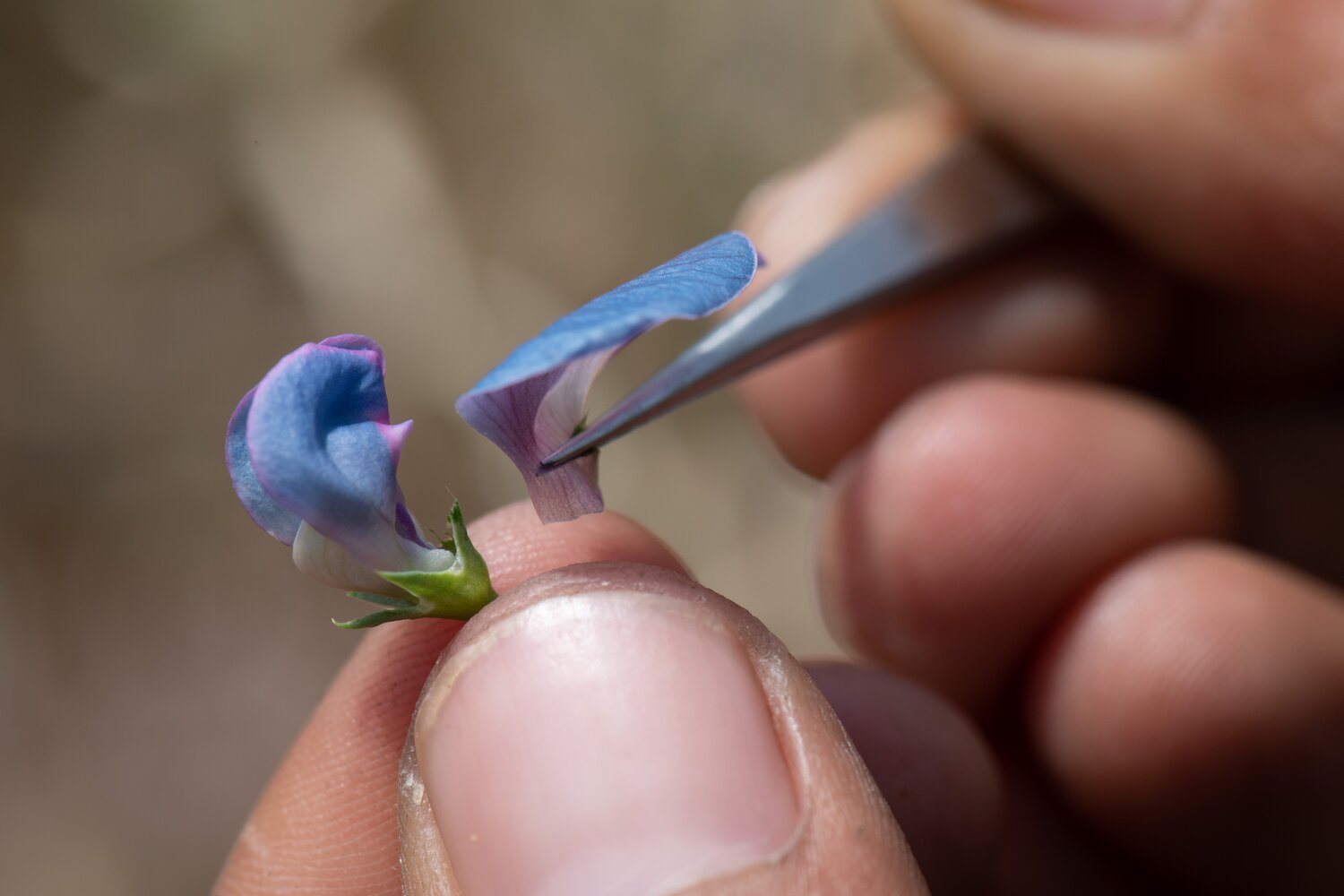 Collecting
Armenian Botanical Society, Yerevan, Armenia
Genetic Resources Institute, Azerbaijan National Academy of Sciences, Baku, Azerbaijan
Agricultural Research Institute, Ministry of Agriculture, Natural Resources and Environment, Nicosia, Cyprus
Ethiopian Institute of Agricultural Research, Debre Zeit, Ethiopia
Institute of Botany, Ilia State University, Tbilisi, Georgia
National Botanical Garden of Georgia, Tbilisi, Georgia
University of Pavia, Italy
Lebanon Agricultural Research Institute, Rayak, Lebanon
National Agriculture Genetic Resources Center, Kathmandu, Nepal
Museu Nacional de História Natural e da Ciéncia, Lisbon, Portugal
National Institute for Agricultural and Food Research and Technology, Madrid, Spain
Pre-breeding and evaluation
Lead Institute: ICARDA, Rabat, Morocco
Partners:
Institute National de la Recherche Agronomique, Rabat, Morocco
John Innes Center, Norwich, UK
Grasspea key collections, materials and data
Grasspea collections
The largest grasspea collection is conserved at the ICARDA genebank.
Of the 306 samples collected, 261 samples of 26 wild Lathyrus species from eight countries are conserved in the Millennium Seed Bank.
The Genesys PGR database also includes information about grasspea accessions in genebanks worldwide.
Pre-breeding materials
All pre-breeding materials and promising introgressed lines are being advanced at ICARDA and are available for sharing through SMTA.
Data
All data from the crop wild relatives (CWR) grasspea pre-breeding and evaluation projects are available in the Germinate grasspea database.
Relevant publications

Abdallah, F., Kumar, S., Amri, A., Mentag, R., Kehel, Z., Mejri, R.K., El Abidine Triqui, Z., Hejjaoui, K., Baum, M., Amri, M. 2021. Wild Lathyrus species as a great source of resistance for introgression into cultivated grass pea (Lathyrus sativus L.) against broomrape weeds (Orobanche crenata Forsk. and Orobanche foetida Poir.). Crop Science 61(1): 263–276.
Das, A., Parihar, A.K., Barpete, S., Kumar, S., Gupta, S. 2021. Current perspectives in reducing β-ODAP and improvement of potential agronomic traits in grass pea (Lathyrus sativus L.). Frontiers in Plant Sciences 12:703275. https://doi.org/10.3389/fpls.2021.703275.