Why banana/plantain?
About 150 million tonnes of bananas (Musa spp.) are harvested annually throughout the tropics, but only 15% or so (mainly dessert types) is traded internationally. Most bananas are grown for home consumption or for sale in domestic or regional markets. The cooking types are especially important for food security. East Africa has the highest consumption rates, with up to 1 kg a day per person.
More than 50 species of wild banana are believed to exist, but two species, Musa acuminata Colla and Musa balbisiana Colla, are known for their role in the domestication of most types of edible banana. A distinct group of cultivars, Fe'i bananas, developed independently in the Pacific region. Overall, there are more than 1000 varieties of cultivated bananas.
Because bananas are multiplied vegetatively, all the individuals of the same variety in a plantation are genetically identical clones. This makes banana plantations highly susceptible to outbreaks of pests and diseases and the yield vulnerable to prolonged dry spells. The threat to internationally traded varieties from new races of pathogens has created worldwide alarm and a drive to develop resistant varieties. Another target of banana breeding is to create varieties that offer better nutrition and are ready to face the climate change challenges. Efforts aimed at nutritional improvement are focused on increasing levels of vitamin A precursors. This is especially important where bananas are a staple crop or used to wean children onto solid food.
Collecting
131 samples of eight different wild Musa species were collected from five countries: Kenya, Malaysia, Nepal, Papua New Guinea and Vietnam.
Evaluation
Seven wild banana (sub)species were genetically characterized and their transpiration rate was measured across a wide range of environmental conditions. This identified two broad groups of banana: those that limited water use at the expense of intake of CO2 (hence limiting growth potential) and those that used more water but had a greater uptake of CO2.
M. balbisana was shown to have the greatest potential of introducing drought tolerance traits in breeding programs, although several M. acuminata lines also contain interesting drought tolerance traits.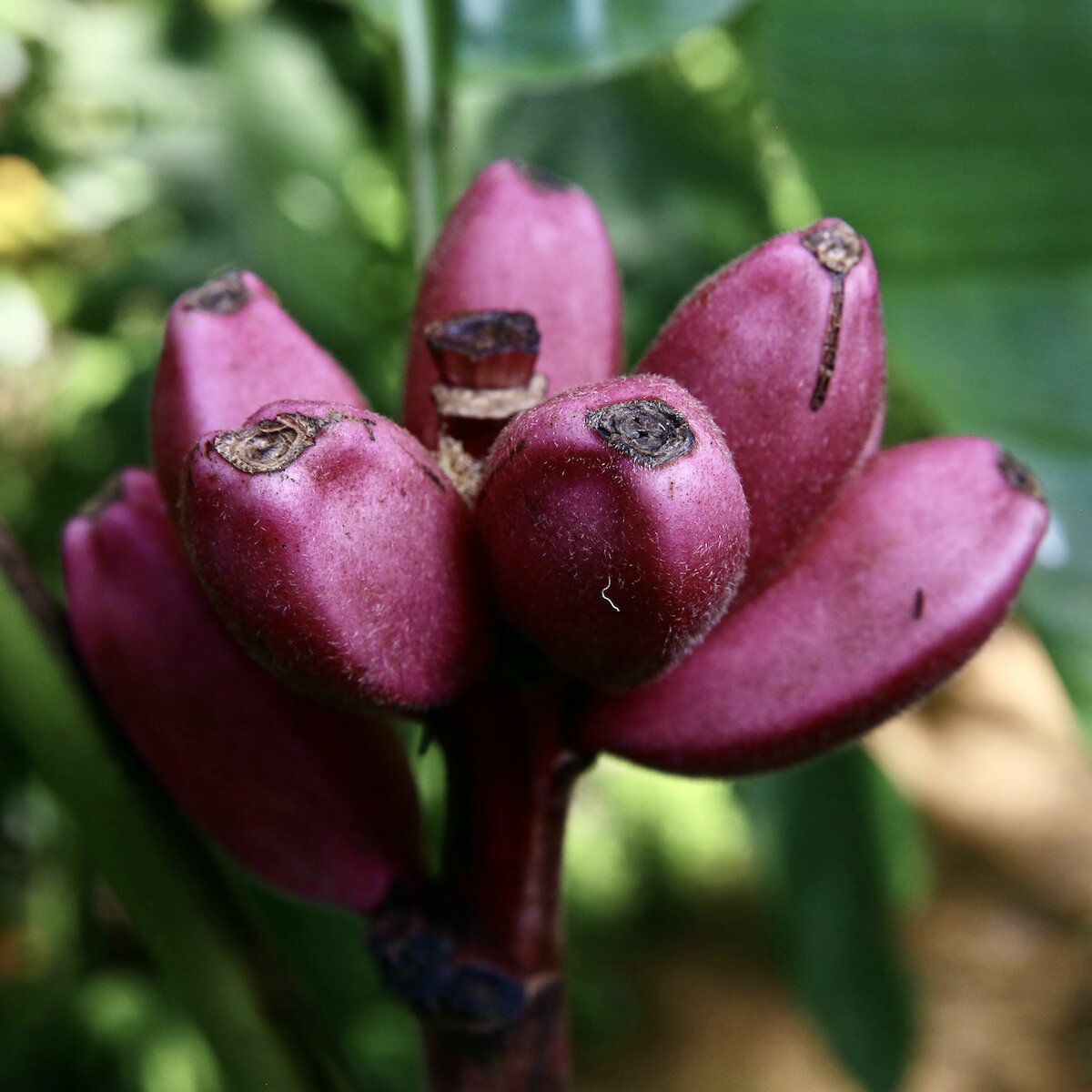 Collecting
Kenya Agricultural and Livestock Research Organization, Nairobi, Kenya
Malaysian Agricultural Research and Development Institute, Serdang, Malaysia
National Agriculture Genetic Resources Centre of the Nepal Agricultural Research Council, Khumaltar, Kathmandu, Nepal
Plant Resources Center, Hanoi, Vietnam
Bioversity International
Katholieke Universiteit Leuven University (KULeuven), Belgium
NARI PNG, Papau New Guinea
Nationale Plantentuin Meise, Belgium
Pre-breeding and evaluation
Lead Institute: KULeuven, Belgium.
Partners:
Botanic Garden Meise, Belgium
International Institute of Tropical Agriculture, Dar es Salaam, Tanzania
Banana/plantain key collections, materials and data
Banana/plantain collections
The largest banana and plantain collection is conserved at the International Musa Germplasm Transit Centre in Belgium.
All the new seed material collected by the project is being stored by the Botanical Garden of Meise, Belgium. Genetically characterized individuals with interesting traits will enter the International Musa Germplasm Transit Centre (ITC) banana genebank.
Data
All data from the CWR banana/plantain pre-breeding and evaluation projects are or will be available in the Musa Global Information system (MGIS).
The Genesys PGR database also includes information about banana/plantain accessions in genebanks worldwide
Banana/Plantain stories
Relevant publications

Relevant publications

Cenci, A., Hueber, Y., Zorrilla-Fontanesi, Y., van Wesemael, J., Kissel, E., Gislard, M., Sardos, J., Swennen, R., Roux, N., Carpentier, S.C., Rouard, M. 2019. Effect of paleopolyploidy and allopolyploidy on gene expression in banana. BMC Genomics 20(1): 244. https://doi.org/10.1186/s12864-019-5618-0.
Costa, C., Schurr, U., Loreto, F., Menesatti, P., Carpentier, S. 2019. Plant phenotyping research trends, a science mapping approach. Frontiers in Plant Science 9: 1933. https://doi.org/10.3389/fpls.2018.01933.
Dittrich, M., Mueller, H.M., Bauer, H., Peirats-Llobet, M., Rodriguez, P.L., Geilfus, C.-M., Carpentier, S.C., Al Rasheid, K.A.S., Kollist, H., Merilo, E., Herrmann, J., Müller, T., Ache, P., Hetherington, A.M., Hedrich, R. 2019. The role of Arabidopsis ABA receptors from the PYR/PYL/RCAR family in stomatal acclimation and closure signal integration. Nature Plants 5: 1002–1011.
van Wesemael, J., Kissel, E., Eyland, D., Lawson, T., Swennen, R., Carpentier, S. 2019. Using growth and transpiration phenotyping under controlled conditions to select water efficient banana genotypes. Frontiers in Plant Science 10: 352. https://doi.org/10.3389/fpls.2019.00352.
Carpentier, S.C. 2020. The use of proteomics in search of allele-specific proteins in (allo)polyploid crops. In: Jorrin-Novo, J., Valledor, L., Castillejo, M., Rey, M.D. (eds.). Plant proteomics. Methods in Molecular Biology 2139. New York, NY, USA: Humana.
Cenci, A., Sardos, J., Hueber, Y., Martin, G., Breton, C., Nicolas, R., Swennen, R., Carpentie r, S., Rouard, M. 2020. Unravelling the complex story of intergenomic recombination in ABB allotriploid bananas. Annals of Botany 127(1): 7–20.
Bhuiyan, FarhanaR., Campos, N.A., Swennen, R., Carpentier, S. 2020. Characterizing fruit ripening in plantain and Cavendish bananas: A proteomics approach. Journal of Proteomics 214: 103632. https://doi.org/10.1016/j.jprot.2019.103632
Brown, A., Carpentier, S.C., Swennen, R. 2020. Breeding climate-resilient bananas. In: Kole, C. (ed.). Genomic designing of climate-smart fruit crops. Cham, Switzerland: Springer. pp. 91–115.
Kallow, S., Longin, K., Sleziak, N.F., Janssens, S.B., Vandelook, F., Dickie, J., Swennen, R., Paofa, J., Carpentier, S., Panis, B. 2020. Challenges for ex situ conservation of wild bananas: Seeds collected in Papua New Guinea have variable levels of desiccation tolerance. Plants 9(9): 1243. https://doi.org/10.3390/plants9091243.
Van den houwe, I., Chase, R., Sardos, J., Ruas, M., Kempenaers, E., Guignon, V., Massart, S., Carpentier, S., Panis, B., Rouard, M., Roux, N. 2020. Safeguarding and using global banana diversity: a holistic approach. CABI Agriculture and Bioscience 1: 15. https://doi.org/10.1186/s43170-020-00015-6
van Wesemael, J., Swennen, R., Roux, N., Carpentier, S. 2020. The importance of the light spectrum in a high-throughput phenotyping lab concept: Evaluating transpiration and biomass growth of different banana cultivars under different blue/red light ratios. Acta Horticulturae 1272: 13–20.
Eyland, D., Breton, C., Sardos, J., Kallow, S., Panis, B., Swennen, R., Paofa, J., Tardieu, F., Welcker, C., Janssens, S.B., Carpentier, S.C. 2021. Filling the gaps in gene banks: Collecting, characterizing, and phenotyping wild banana relatives of Papua New Guinea. Crop Science 61(1): 137–149.